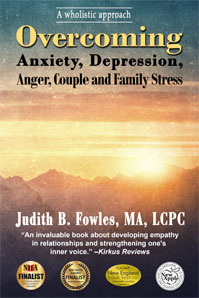 Overcoming is an educational self-help book about how we think. It teaches basic psychological concepts that we all should know.
Judith Fowles says, "From an early age, we are taught basic math and English so we can function in society. We would be better off as a society if we were also taught the basics of how our minds work, which, as it turns out, is often against us."
Overcoming is designed for the person who seeks better understanding of self and others, for the professional to use during therapy sessions, and for teaching basic psychological concepts experientially to high school, college, and graduate school students.
Learn how to make choices based on what you want, rather than what others think you should want.
Become aware of how you communicate with others, in ways that either bring people closer to you emotionally or drive them away.
Discover how hidden psychological dynamics between people create stress in couple relationships, parenting interactions, and among family members.
Determine your personality type and that of others so you can understand yourself and others better.
Awards
Writer's Digest Judge's Commentary - OVERCOMING ANXIETY, DEPRESSION, ANGER, COUPLE AND FAMILY STRESS by Judith B. Fowles, MA, LCPC is an excellent book for those seeking to understand themselves and others. Readers don't need to feel any of the emotions named in the title to benefit from this book. Written by an author who's qualified to tackle the subject, the material is conveyed in an easy to understand and relatable style. It was hard for me to put this book down. I realize that phrase usually refers to exciting novels, but this work is compelling enough to deserve this praise. Speaking of praise, I was surprised to find that praising others can block communication. But as the author explained, improper praise can hold people back. So false flattery and dishonest praise meant to make a person simply feel better doesn't help. That is only one interesting aspect of the book. First along, the author helps the reader learn how to communicate effectively, and to run from danger (for example, a romantic partner who's too jealous, etc.) This might seem like common sense but it's good to see because who knows -- someone vulnerable to abuse just might find life-saving help. Nice work. The cover is just okay, though the colors are nice. I appreciated the author's photo and bio on the back, and the copy made me want to read the book right away. I also enjoyed the personality analysis. This is an important book to refer to and simply to read any time.
Finalist in the 10th Annual Indie Excellence Awards, Self Help: General category
Finalist in the 2016 Best Book Awards, Health: Psychology/Mental Health.
Honorable mention at the New England Book Festival in general non-fiction
Solo-medalist winner in the Motivational/self-help category in the 2016 New Apple Annual Book Awards for Excellence in Independent Publishing.
Order Overcoming Teacher's Guide here
Address
P.O. Box 501
Skowhegan, ME 04976


"An invaluable book about developing empathy in relationships and strengthening one's inner voice." ~ Kirkus Reviews
"- . . . an excellent book for those seeking to understand themselves and others." ~ Writer's Digest

Judith B. Fowles, MA, LCPC is a licensed clinical psychotherapist with a private practice in central Maine. She works with individuals, couples and families.